CANDYMAN'S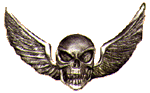 HOMEPAGE!!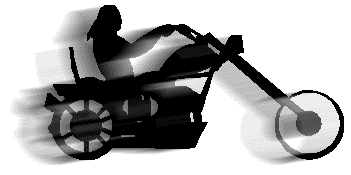 Let me tell you about myself. After all isn't that what this page is about???
I love riding motorcycles and working on them. I love the feeling of the wind in my face, the freedom of the road ahead still yet unexplored. I enjoy going down going down the roads less traveled. I live in Atlantic,Iowa.Where I am the president of our local chapter of The Flaming Knights M/C. The Knights are a family of closely knit people who cover each other and ride as one without color lines and we don't care what kind of bike you ride as long as you have a passion for it, if you want info on the club just contact me.
If you want to send your bike pics to me then I'll start a page of visitors bikes just e-mail me and we'll get the ball roll in'. I'm sorry to all you that don't like any bikes but Harleys but I'll post all makes and models after all "it's not what you ride, it's just the fact that you ride"
I'm not talking just on the weekend either, 24/7, I hate R.U.B.s (rich urban bikers, worthless idiots that drive up the prices of bikes) that only ride because it's the "in" thing to do if you have to think "gee" it's a nice day ,should I go golf (like there is any comparison) or ride my motorcycle?" then your a R.U.B.(yuppie scum) and I want you to get the hell out of my page, NOW! I also hate people that think by buying a bike that makes them some bad-ass biker and all they did was buy the bike and some leathers, well to all of you I hate to burst your bubble but to be a biker you must first live the life, and golly gee whiz you might even have to turn the wrench on your bike and get a little greasy. Go here if your a R.U.B.
If your a true biker there is no other thought, you crave it ,you have to have it. It's an overwhelming drug of sorts, if you ride you know what I mean, the feeling of true freedom but of which shouldn't be affected by the type or style of bike, after all "attitude comes from the person not the bike". If you ride that's all that matters to me. Not what your skin tone is ,or if your male or female. A biker is a biker regardless. With that thought I'll leave.......For now.
Now go check out the rest of my pages!!!
MY WEBSITE NAVIGATOR
WEBRINGS I BELONG TO
GO HERE TO SEE MY.........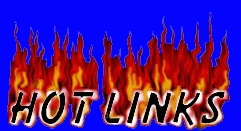 GO CHECK OUT MY SEARCH ENGINE PAGE
GO HERE TO LOOK AT SOME CHOPPERS AND CUSTOMS I FOUND ON THE NET
To all that passed down the road before me and made it possible for me to ride the open road free, I thank you!
CANDYMAN

BIKES I'VE HAD
CLICK ON THEM TO LOOK AT THEM, AND GET MORE INFO
1984, 400 C.C. YAMAHA SPECIAL
1981, 650 C.C. YAMAHA HERITAGE SPECIAL
1983, 750 C.C. HONDA MAGNA
1961, 900 C.C. XLH SPORTSTER CHOPPER
1997, 1100 C.C. HONDA SHADOW A.C.E.
1975, 200 C.C. YAMAHA ELECTRIC page coming soon
1984, 900C.C. KAWASAKI CHOPPER
1984 550C.C. KAWASAKI LTD
1978 1000C.C. XLH SPORTSTER CUSTOM
*
1999 750C.C. HONDA MAGNA
*
THEY'RE IN ORDER OF THE WAY I BOUGHT THEM. *STILL OWN
Thanks for stopping by..be sure to check this page often.....
DON'T FORGET TO CHECK OUT MY LINKS PAGE AND SEARCH PAGE BEFORE YOU GO!!!
E-MAIL ME AT
SHADOWACE97@hotmail.com
THIS PAGE IS ALWAYS UNDER DEVELOPMENT!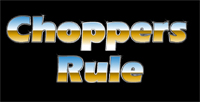 Fast Counter by Link Exchange
UPDATED ON 1/6/00